Limited Time Offer
Valid since: 2019.12.26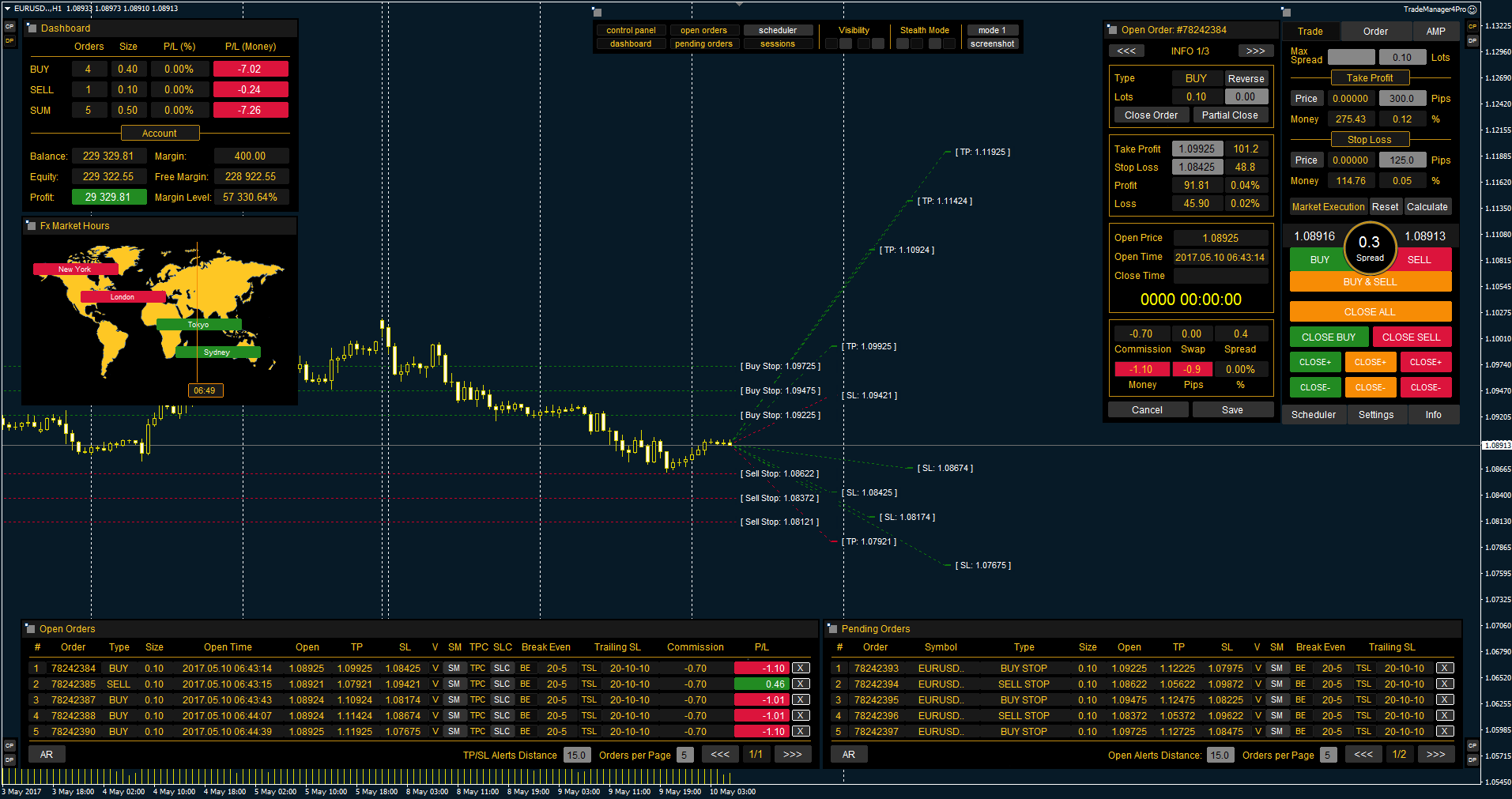 Trade Manager 4 Intro

I started to develop this small piece of software in November 2013. From the beginning, it was designed mainly for manual trading. However, over time it has grown into something bigger and now it can be used for semi-automatic trading as well.

The goal of Trade Manager is make trading more easy and clear. To have the ability to fairly easily determine and enter profit and loss based on multiple combinations of price, money, percent or pips/points. Or be able to integrate into the trading specialities like averaging or pyramiding positions, their partial closure etc. And finally, extend it all to an automatic or semi-automatic process.

I have been using PRO version since 2016. And I also wanted to offer this tool to other traders, because the same way as I like trading, I like the development of software products. (Read little more about me)

So in 2017 I decided to release the Lite version. And now Pro 4 version for Meta Trader 4 is available too.
Trade Manager 5 Next Generation
At this moment I am improving editions for Meta Trader 4 but at the same time I am developing Trade Manager 5 for Meta Trader 5. Meta Trader 5 is becoming increasingly popular so it's just next step. But you don't need to pay it twice.


Here I would like a make offer for you. This offer is Time Limited. This is my way to thank you for your support and trust for my product.

My Time Limited Offer
Here is my offer:
You can buy Trade Manager 4 PRO with 20% discount 
- it's lifetime license and all future updates are for free
...OR WAIT...

You can buy Trade Manager 4 PRO for full price and get Trade Manager 5 PRO for free
- it's lifetime licence with all future updates for free.
And if you choose this option, I have other benefits for you. Other products will be free for you as well:
Fx Strength
- the indicator measuring the strength of a currency calculated over several currency pairs and over different (preselected) timeframes.
Fx Correlation
- indicator under development, more info soon
GRX Trend
- indicator under development, more info soon
Trade Copier
- EA under development, more info soon
With this option you get something like a VIP membership. And license for these products can be extended to more than 1 computer!
But beware, both offers are really time limited.
Ends on the day Trade Manager 5 will be released.
And it will be soon...
So choose the option that suits you best.
I offer to you 7-day unlimited trial version and 14-day money back guarantee for Trade Manager 4 PRO.
So, you have 21 days to find out whether Trade Manager 4 is a tool for your trading or not. If not, just please let me know. I will send your money back without any questions.